The hardwood flooring market continues to benefit from advances in technology, which are making them more beautiful and more likely to stand up to life's challenges. Manufacturers are offering a wide variety of surface textures, designs and styles. The advancements in technology have further enabled the manufacturers to provide high-performance hardwood flooring with a longer lifespan, and in some cases, even with more competitive price points.   
"Wood décor flooring is the fastest growing category within hard surface," said Adam Ward, senior product director, wood and laminate, Mohawk. "It is growing 14 times as fast as tile and stone looks. Consumers want wood, and they prefer natural wood. When you can combine ultimate performance with genuine hardwood—it is a win-win for our retail partners."
Below are four key wood looks trending this year.
Trend: Waterproof Wood
Consumers want worry-free floors. New engineered wood introductions incorporate innovative constructions and finishes that repel water and stand up to daily living. They can be installed with confidence anywhere, in any room of the home, including kitchens, baths and basements. These floors can be installed with confidence anywhere, in any room of the home, including kitchens, baths and basements.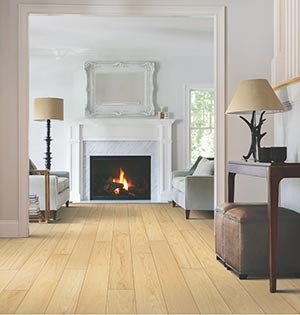 UltraWood is domestically produced at the company's Danville, Virginia, facility and features the company's new patented WetProtect technology. It protects the top of the floor and from water leaking through and damaging the subfloor and offers a lifetime surface and subfloor waterproof warranty. Photo: Mohawk.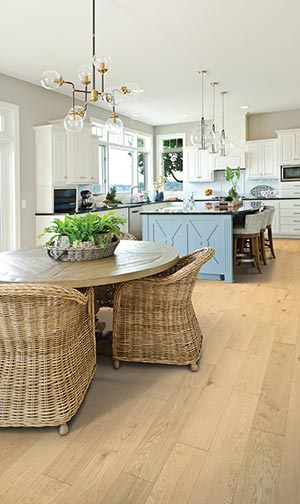 Välinge Flooring hardened wood floor with Woodura surface technology makes the floor three to five times harder that the original species. The floors include the 5G Dry click system, which has extra protection from water penetrating into the seams of the floor making the flooring waterproof. The 5G Climb feature also allows the flooring to be installed on walls by just adding a small plastic clip. Photo: Välinge Innovation.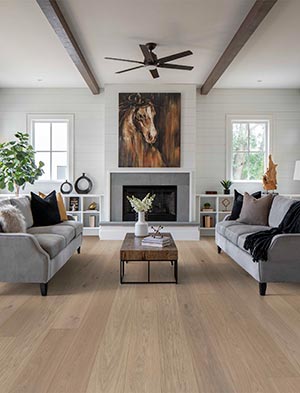 HydroBlok by AHF Products features a three-part system protects against water damage and a proprietary coating on plank ends and edges seals out water to help protect against everyday spills, wet moping or even pet accidents from absorbing into the wood or leaking between planks into the subfloor. Photo: Hartco.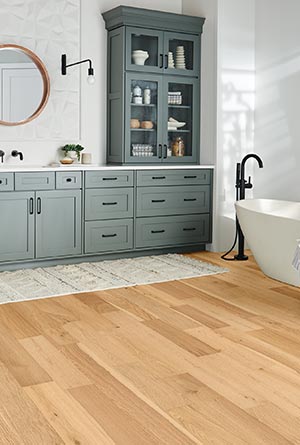 Raintree utilizes a hybrid construction that takes the waterproof core from resilient and tops it with a sliced hardwood layer. Photo: Raintree.
Trend: Natural Character
Seasoned by exposure, the weathering of materials like hardwood, stone and metal create beautiful patinas and muted color. A weathered and aged appearance adds a lived-in and less precious aesthetic to a space. Homeowners continue to towards floors with natural character as a way to bring warmth and authenticity to their living spaces.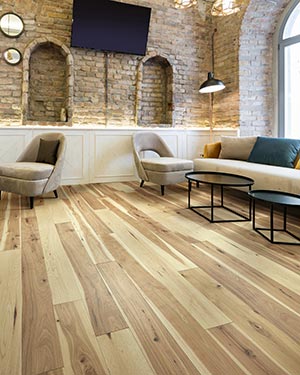 This White Oak quarter-sawn floor by Lauzon is part of the Hamptons series, which fits in with refined, relaxed and contemporary spaces. Photo: Lauzon.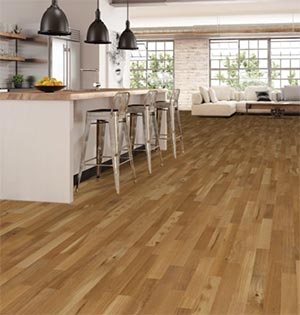 The Barnwood Living collection by Mark Bowe from Bruce celebrates American craftsmanship. Made in West Virginia, Barnwood Living is a curated 10-sku collection featuring a vintage, barnwood visual. Photo: Bruce.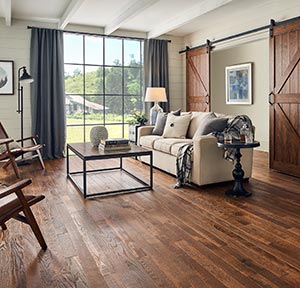 Hallmark's True hardwood flooring collection replicates "the bog-wood process" that occurs when logs lie buried in lakes, river, and waterways for hundreds of years, deprived of oxygen and sunlight. Photo: Hallmark.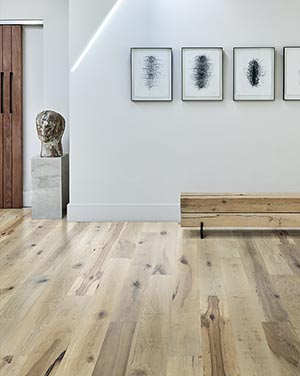 Dynamic variations in tone and texture are accentuated in this natural pecan collection. No two planks of Imperial Pecan are alike—each one resembles different grain patterns seen in pine, white oak and hickory. Photo: Anderson Tuftex
Trend: Clean & Sophisticated
West Coast and Scandinavian styles, which include cleaner and lighter visuals, influence wood flooring purchases. White Oak, lighter and matte finishes that look more like natural wood are trending.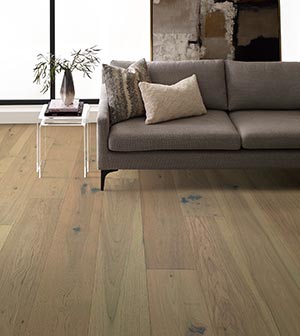 Castlewood Prime is inspired by West Coast style and the growing desire for cleaner, more sophisticated visuals. Photo: Shaw Floors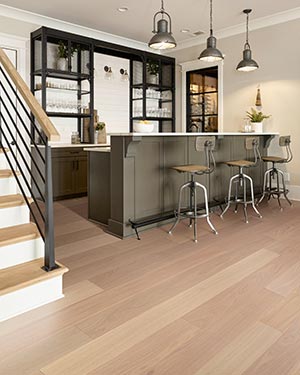 The Normandy Oak series, part of Mannington's Maison collection is updated with fresh, new colors. The wide plank white oak features a 7" width and boards up to 7 feet long. Photo: Mannington.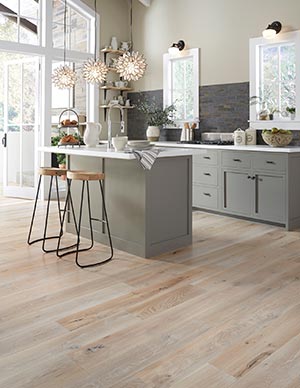 TecWood offers the natural beauty of hardwood with long-lasting finishes that protect against dulling and scratching over time. Shown here: Haven Pointe Maple. Photo: Mohawk.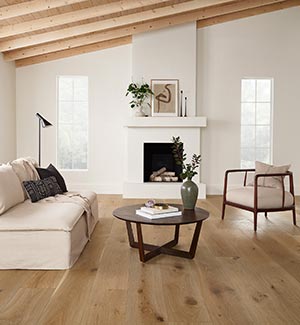 Anderson Tuftex Grand Estate in Eaton Manor features broad planks of European oak while celebrating innate simplicity. Photo: Anderson Tuftex.
The Brown Color Story
Moving away from the gray-based palettes of recent years, this year's brown hues add richness to interiors. This colorway is in response to consumers wanting to feel warmth and comfort in their homes.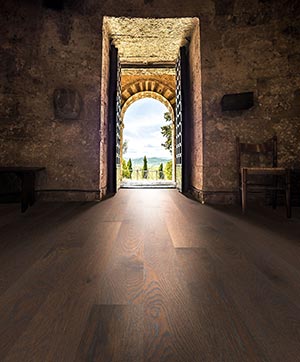 The dark, cultured color of William and Mary has an heirloom quality that imbues a home with European grace. Very matte and gently wire-brushed, this old-world style has an oiled-rubbed look that retains its resemblance without the maintenance. Photo: Emily Morrow Home.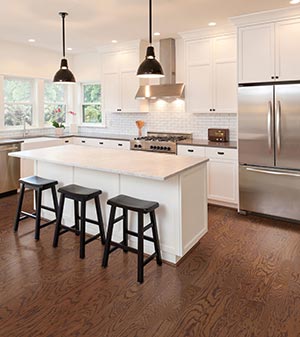 Harris One Red Oak Bridle engineered wood floors. Photo: Harris Wood Floors.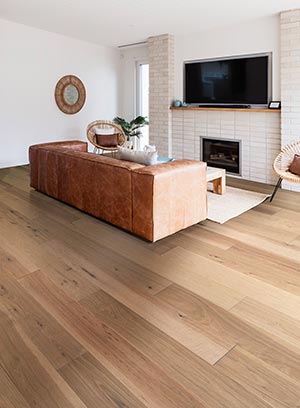 Shaw Floors Exploration Hickory in Dune is a mid-town brown that adds warmth. Photo: Shaw Floors.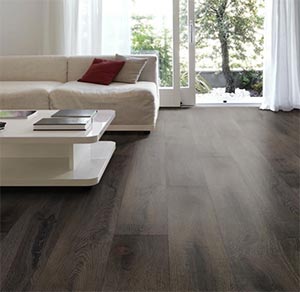 The base color of Duchateau's Atelier Burnt Oak is a dark charcoal. The name is a direct description of how this floor is produced. After an aggressive torching of the raw European Oak material, each plank is then cooled with water. Next, a wire-brush texture is applied, exposing the grain pattern which softens the overall look of this dark floor, while bringing out lighter brown tones. A final application of natural oils enhances the visual. Photo: Duchateau.